The Drifter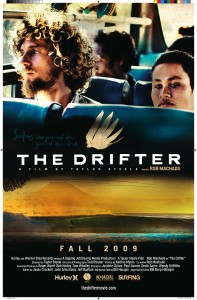 In the summer of 2008, iconic surfer and former Pipe Master Rob Machado flew to Indonesia to experience a different kind of surf trip. A journey that would take him way beyond his comfort zone, to the point where he could finally be alone with his thoughts, his desires and the empty perfection of an unnamed Indian Ocean reef. What did he discover? You never stop dreaming. Even when they come true.
Hurley and Sire/Warner Bros. Records Present
a Sipping Jetstreams Media Production
A Taylor Steele movie
Rob Machado as "The Drifter"
Directed by: Taylor Steele
Director of Photography: Todd Heater
Written by: Nathan Myers
Co-writer: Rob Machado
Executive Producers: Roger Wyett, Bob Hurley, Tom Whalley
Producer: Justine Chiara
Producer for Hurley: Paul Gomez
Producers for Sire/Warner Bros. Records: Devin Sarno, Wendy Griffiths
Edited by: Jason Crockett, John Armstrong, Jeff Bastian
Additional Editing: Bill Haugse
Supervising Editor: Bill Berg-Hillinger
The Drifter Trailer from NY Surf Film Fest on Vimeo.