2012 Jury Awards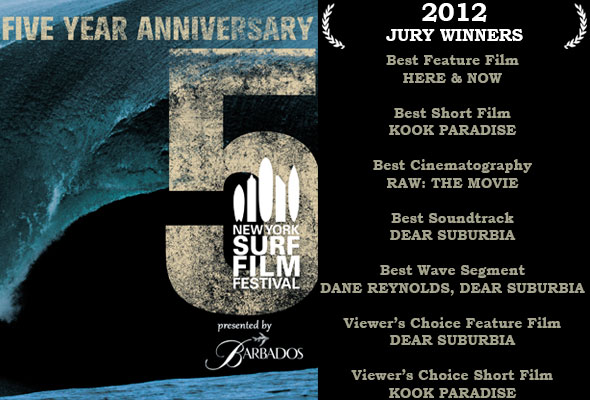 THE VOTES ARE IN: NEW YORK SURF FILM FESTIVAL PRESENTED BY BARBADOS IS PROUD TO ANNOUNCE OUR 2012 AWARDS
New York, NY, October 8, 2012– The 2012 New York Surf Film Festival (NYSFF) presented by Barbados is pleased to present our Official Jury 2012  Film Awards for outstanding work in both feature and short form film, cinematography,  soundtrack, as well as the viewer's choice selection. With thirteen sold out screenings, over 1,500 people in attendance and numerous premieres and parties, the 5th anniversary of the annual  NYSFF welcomed international filmmakers, surfers, friends, and media to Nitehawk Cinemas, NYC on September 19th and 20th, 2012 for an  arrangement of 30 films from around the world, intimate Q&A sessions and charity fundraising with libations courtesy of Pabst Blue Ribbon. 
The 2012 NYSFF Screening Panel Proudly Awards the following films:
2012 BEST FEATURE FILM AWARD: HERE & NOW An Innersection Film, Directed by Nathan Myers, Produced by Taylor Steele; "Here & Now" was shot in one day. More than 25 filmmakers and surfers worked in unison to document the world of surfing in a single 24-hour period: May 2, 2012. From world champs like Kelly Slater and Stephanie Gilmore to free spirits like Dave Rastovich, Ozzy Wright and AlexKnost, this project brings together shapers, photographers, legends, beginners, third world, first world and surf world. Some scored big. Others couldn't find a ripple. It's all part of the surfing experience. From contests to camping, hanging at home or hitting the road, veteran surf filmmaker Taylor Steele pulls together an epic, international cast to prove the best place to be is here and now. 
2012 BEST SHORT FILM AWARD: KOOK PARADISE; Directed by Danny Dimauro and Tin Ojeda; Kook Paradise is one part social commentary, one part comedy and one heaping spoonful of reality. Kook Paradise is filmed on location at Ditch Plains Beach highlighting the surf culture in and out of the water. It is shot in the style of the surfing films from the 1960′s , bringing levity and humor to that which surrounds surfing's current popularity in NY in particular. Kook Paradise is a film by Danny Dimauro and Tin Ojeda .
2012 BEST SOUNDTRACK AWARD: DEAR SUBURBIA; Directed by Kai Neville, With Dane Reynolds, John John Florence, Kolohe Andino, Yadin Nicol, Craig Anderson, Chippa Wilson, Dillon Perillo, Conner Coffin, Mitch Coleborn, Dion Agius, Evan Geiselman, Taj Burrow and Jack Freestone; Website: www.whatyouth.com; Filmed on location in Japan, Australia, New Zealand, Indonesia and the Caribbean, Dear Suburbia, is the latest release from Kai Neville and is the follow up to his previous films Modern Collective and Lost Atlas. It is a high-performance, location-based surf film set against exotic landscapes, objects and personalities juxtaposed with the traditions of suburban life. Spontaneity versus routine. The unknown versus the familiar. An interpretation of our lifestyle, culture, riding waves, traveling the world — a pirouette into the absurdity of it all. The result is a graceful, often schizophrenic glimpse at modern life with a surfboard and a passport.
2012 BEST CINEMATOGRAPHY AWARD: RAW: THE MOVIE; Directed by Cohan Banfield and Mark Brightwell; Website: www.rawthemovie.com; RAW THE MOVIE is a new vision in surf film making, combining surfing, the art of cinematography, and a mindful use of editing that synchronizes vision and audio. The film showcases a diverse range of the world's best surfers. RAW THE MOVIE will inspire, motivate and just amaze surfers, enthusiasts and non-believers alike.
2012 BEST WAVE SEGMENT: DANE REYNOLDS, DEAR SUBURBIA
2012 VIEWER'S CHOICE FEATURE FILM AWARD; DEAR SUBURBIA
2012 VIEWER's CHOICE SHORT FILM AWARD; KOOK PARADISE
The New York Surf Film Festival brought together avid surfers, legendary surf photographers, film buffs and New York City audiences fascinated by the sport. It was a celebration of both the East Coast surf community but also the artistic integrity of the surf film genre.  Be sure to continue to check in at http://newyorksurffilmfestival.com/ for images, highlight & filmmaker Q&A video clips, and 2013 festival and updates.
About the 2012 NYSFF Sponsors
PRESENTING SPONSOR
The New York Surf Film Festival is thankful for the support of Barbados as our 2012 Presenting sponsor -The island of Barbados offers the most authentic Caribbean experience with its exceptionally rich culture and history rooted in remarkable landscapes. Rated as one of the world's sexiest beaches in 2008 by Concierge.com; Barbados' Crane Beach in St. Philip stands as a premier destination for travelers. Barbados is also the first Zagat-rated Caribbean island with numerous internationally renowned chefs who masterfully put signature spins on local delicacies and traditions. Barbados is an ideal stage for world-class events and in collaboration with American Express Publishing Corporation, Barbados has hosted its first annual Barbados Food & Wine and Rum Festival in November 2010. The country has also hosted numerous athletic championships, including the 2006 PGA World Golf Championships-Barbados World Cup, the ICC Cricket World Cup Finals in 2007, the Sentebale Charity Polo match with Prince Harry of Wales in 2010, and the ICC Twenty20 Cricket Finals for 2010. Accommodations range from picturesque plantation houses and villas, to quaint bed and breakfasts and award-winning, five-star resorts. Grantley Adams International Airport offers even more non-stop and direct service from a growing number of U.S. cities via Jet Blue and American Airlines, making Barbados the true gateway to the Eastern Caribbean. Barbados was voted eighth in the World by Trip Advisor's '2008 Travelers Choice Destination Awards' in its Top 100 Destinations category. For more information on travel to Barbados, visit www.visitbarbados.org, follow on Facebook at http://www.facebook.com/VisitBarbados, via Twitter @Barbados or contact the Barbados Tourism Authority at 1.800.221.9831.
NYSFF welcomes back our official media partner Surfing Magazine.
NYSFF welcomes our official creative partner KBS+
NYSFF welcomes Xsories as our official extreme sports accessories sponsor.
NYSFF welcomes  Glassy Clothing as our official T-Shirt sponsor.
NYSFF thanks the general support of our Friends of the Festival NYSurfingBuddies, Rockaway Beach Surf Club, Encylopedia of Surfing, Saturdays Surf NYC, 5Rhythms, Bandar, Sound Lounge,  Ditch Plains, Go Pro , Hive Surf, LIberty Bottleworks, unsOund Surf, Wax Buddy, Swell.com, SurfersVillage.
NYSFF is proud to support Stoked Mentoring & Waves of Health.
About New York Surf Film Festival:
Founded in 2007, the New York Surf Film Festival is the premier showcase for international independent surf films. The mission of the New York Surf Film Festival is to provide filmmakers who are exploring the diversity of surfing an opportunity to present their work to a larger audience. As surf culture becomes more popular, the notion of what it means to be a surfer expands. The New York Surf Film Festival's aim is to build upon and shape the idea of what a surf movie is, while fostering the growth of this global community in NYC. NYSFF is a proud member of the Global Surf Film Festival Collective
For media inquiries:
Morgan Rae Berk
347.987.4273
###