Lighthouse International Film Festival 2013 Surf Film Program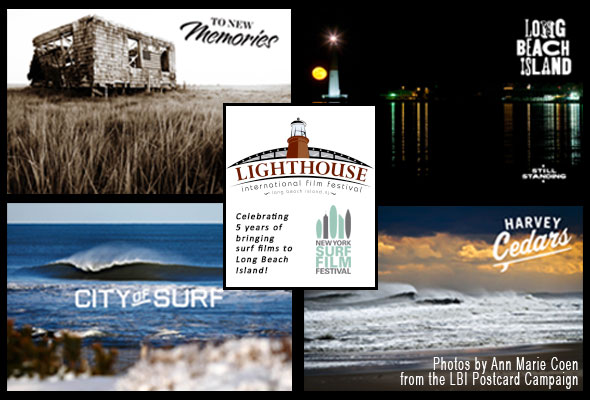 FOR IMMEDIATE RELEASE
LIGHTHOUSE INTERNATIONAL FILM FESTIVAL ANNOUNCES 2013 SURF FILM LINEUP
Fifth Annual Festival to continue 5 Year surf film programming partnership with the New York Surf Film Festival
LONG BEACH ISLAND, NEW JERSEY —June 6, 2013—The Lighthouse International Film Festival (LIFF) in partnership with the New York Surf Film Festival (NYSFF) has announced the surf film lineup for its fifth annual festival, which will take place June 6-9, 2013 on Long Beach Island, New Jersey.  Over 75 films will be screened during the entire festival, including six international surfing films in the program this year.
Inspired by the historic Barnegat Lighthouse, which has beckoned travelers to LBI since 1859, LIFF has emerged as New Jersey's leading international film festival. The festival will feature award-winning films from over 20 countries around the world, as well as nightly parties and panel discussions. Acclaimed film critic Glenn Kenny will return to host "Breakfast with Filmmakers" discussions with filmmakers on the mornings of Saturday, June 8 and Sunday, June 9.
"We are thrilled to continue our five year partnership with the LIFF to bring international surf films to the LBI surf community," says Morgan Rae Berk, founder of the NYSFF.  "Long Beach Island locals and emergency responders worked together to bounce back strongly and quickly from Hurricane Sandy's devastation last fall.  Calling all surfers and beach bums alike – LBI is open for business this summer!"
LIFF 2013 Surfing Film PROGRAM  In partnership with the New York Surf Film Festival
Bending Colours, Kai Neville
Children of the Wind, Daphne Schmon
East Coast Rising, Ian Dempsey
Here & Now, Taylor Steele & Nathan Myers
Kook Paradise, Danny Dimauro & Tin Ojeda
Raw: the Movie, Cohan Banfield and Mark Brightwell
Check out surf film reviews in LBI's local Sandpaper here: http://thesandpaper.villagesoup.com/p/surfing-s-artistic-mediums-from-wood-to-water-to-film/1009176?cid=982571
—
New York Surf Film Festival
The New York Surf Film Festival is the premier showcase for international independent and established surf films. The mission of the New York Surf Film Festival is to provide filmmakers who are exploring the diversity of surfing an opportunity to present their work to a larger audience. As surf culture becomes more popular, the notion of what it means to be a surfer expands. The New York Surf Film Festival's aim is to build upon and shape the idea of what surf movie is, while fostering the growth of this global community in NYC.
The 2013 New York Surf Film Festival submissions are now open until June 30th.  Submit your film here.
For updates on the 2013 NYSFF, fans can follow us on Twitter and Facebook.
For New York Surf Film Festival Inquiries:
[email protected]  347.987.4273
For Lighthouse International Film Festival Inquiries:
###