We are proud to present the 2012 Official Film Program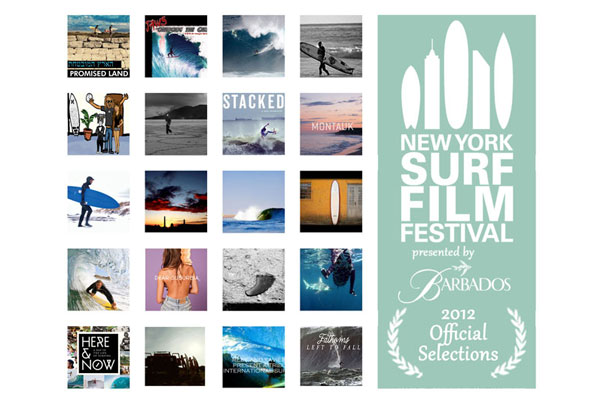 2012 FEATURE FILM PROGRAM LISTINGS
2012 SHORT FILM PROGRAM LISTINGS

New York, NY  - August 29, 2012:  The 2012 New York Surf Film Festival (NYSFF) presented by Barbados is pleased to announce this year's Official Film Selections including 13 Feature Films and 17 Short Films directed by filmmakers and set in locations from all corners of the globe. This premier showcase of thirty (30) international surf films will play at NiteHawk Cinema, New York City, Wednesday September 19th and Thursday September 20th, 2012 from 7pm - 12am.
"This year's group of filmmakers exhibit extraordinary cinematic viewpoints, cohesive storytelling and unsurpassed mastery of the surf filmmaking craft," says Morgan Rae Berk, Founder NYSFF.  "We are excited to celebrate our fifth anniversary bringing diverse surf film programming to the New York City surfing community."
We present the 2012 New York Surf Film Festival Official Selections:
2012 New York Surf Film Festival Official Features Program
Dear Suburbia by Kai Neville: Filmed on location in Japan, Australia, New Zealand, Indonesia and the Caribbean, Dear Suburbia, is the latest release from Kai Neville and is the follow up to his previous films Modern Collective and Lost Atlas. It is a high-performance, location-based surf film set against exotic landscapes, objects and personalities juxtaposed with the traditions of suburban life. Spontaneity versus routine. The unknown versus the familiar. An interpretation of our lifestyle, culture, riding waves, traveling the world — a pirouette into the absurdity of it all. The result is a graceful, often schizophrenic glimpse at modern life with a surfboard and a passport. NYC PREMIERE
European Surf Journal by Peter Sterling - photographer and now filmmaker - travelled intensively for two years throughout Europe. From the barren cold North to the hot desert of Morocco. Countries like Iceland, Scotland and Ireland through the middle of Europe, even surfing on rivers in Germany and Switzerland. This film includes 11 destinations. This is not your average surf film. It does not only show you surf pros but also the guy down the block. It shows serious big waves in Spain and Madeira. An open film made from the heart that will give you joy history and poeple that you meet along the way. This film also contains some older footage of young surfers that still rule the European waves today. Hopefully you are inspired by this historical journey through space and time. US PREMIERE
Gauchos Del Mar by Julian and Joaquin Azulay: "One Dream, Two Brothers , One continent"
Two brothers follow their dream of surfing the American Pacific showing the Continent as a whole, through its different cultures, villages, food, people, animals and landscapes while camping and surfing on their way back home to Argentina.  NYC PREMIERE
Here and Now An Innersection Film: "Here & Now" was shot in one day. More than 25 filmmakers and surfers worked in unison to document the world of surfing in a single 24-hour period: May 2, 2012. From world champs like Kelly Slater andStephanie Gilmore to free spirits like Dave Rastovich, Ozzy Wright and Alex Knost, this project brings together shapers, photographers, legends, beginners, third world, first world and surf world. Some scored big. Others couldn't find a ripple. It's all part of the surfing experience. From contests to camping, hanging at home or hitting the road, veteran surf filmmaker Taylor Steele pulls together an epic, international cast to prove the best place to be is here and now.
Jaws "Changing the Game" by Wangdu Hovey: Jaws "Changing the Game", is a feature length documentary focusing on a small group of big wave surfers at the famous surfing spot Jaws, also known as Pe'ahi, on the north shore of Maui.  Between 2007-2012 a few dedicated individuals achieved what was previously deemed impossible, surf huge Jaws without the use of a Jet Ski.   Follow DK and Shaun Walsh, Marcio Freire, Danilo Couto Jeff Rowley, Albee Layer, Matt Meola, and Ian Walsh, and many others through the historic winter of 2011-2012. NYC PREMIERE
Promised Land by Todd Morehead : Israel is a country that is loved, hated, and often misunderstood by much of the world. Who really belongs there? Why is Jerusalem so important? Why do some believe in a messiah who will put things right? Amidst this seemingly endless battle over land and religion, surfing has emerged as an escape from the controversy. Promised Land is a unique look at this ancient place through the lives of two friends from different faiths, brought together by their love of the oceans that separate them. NYC PREMIERE
Raw the Movie by Cohan Banfield and Mark Brightwell: RAW THE MOVIE is a new vision in surf film making, combining surfing, the art of cinematography, and a mindful use of editing that synchronizes vision and audio. The film showcases a diverse range of the world's best surfers. RAW THE MOVIE will inspire, motivate and just amaze surfers, enthusiasts and non-believers alike. US PREMIERE
Sebastian Beach One Fine Day by Billy Yeager Sebastian Beach:  One Fine Day is an original film that evokes a sense of having been made by two people that stumbled upon a movie camera in the wilderness and are discovering what it's for.  Narrated by the original music of the filmmakers, it's a chronicle of the mundane, laced (as it is in everyday life) with the miraculous.
The soundtrack was written and composed by Award Winning Songwriter Billy Yeager who wrote all the songs at Sebastian inside a beach shack that was  built by the filmmakers and is featured in the film. The wonderful thing about this creative product of the combined wills and imaginations of Anais and Billy Yeager is how profoundly it succeeds in quietly crystalizing an alternative reality in the here and now. Their language of innocent play underpinned with a dystopian despair – a sustained dialogue between the sensual pleasures of simple existence and the sense of aimlessness and utter loss that naturally grow out of what George Gurdjieff called "the terror of our situation" – evokes a mood of homelessness tinged with a sweet optimism reminiscent of the 1960s.WORLD PREMIERE
Surfing and Sharks by Julian Watson: Surfing and Sharks is a documentary about the constant threat South African surfers face every time they paddle out into the ocean, home to one of the largest concentrations of sharks in the world. Against the beautiful backdrop of South Africa's East Coast the viewer is introduced to three local surfers as they share their personal experiences with these animals while surfing their favorite spots. Throughout the film researchers, ecologists, and shark attack victims offer an objective and unique insight on one of South Africa's most feared predators. The film touches on subjects as to why sharks attack, attack prevention, the myths, the media and the future that sharks are facing today, if any at all… US PREMIERE
The Africa Project by Jason Hearn: The Africa Project' documents the beauty, rich culture, lifestyle, surfers, people, incredible waves and potential of the African coastline. It's a visual journey through Morrocco, Senegal, Namibia, a new discovery on the diamond coast,the giant waves off the Western Cape, the west coast of Africa, the south coast of Natal and touches on the life of Jordy Smith. It's a true African surfing experience. US PREMIERE
The Find Claiming Nelscott Reef  by Erich Lyttle: In the hostile, sharky, cold-water surf of Oregon, a grassroots tow-in surf contest takes place at a newly found surf break, Nelscott Reef, where giant waves up to 50 feet challenge the best big-wave surfers in the world, exposing surfing's struggle to find new territories, the ugly rise of localism, and the potential loss of its soul. EAST COAST US PREMIERE
This Time Tomorrow by Taylor Steele: Sipping Jetstreams Media presents This Time Tomorrow, a film by Taylor Steele, documenting an epic Pacific swell chase over 8 days and 18,000 miles traveled.   Two surfers, Dave Rastovich and Craig Anderson, tracked waves generated from this single storm in an exhausting attempt to surf the same wave twice as they pulsed eastward through the Pacific.  As these waves thundered across the legendary reef of Teahupo'o, reeled down the endless point breaks of Mexico and onwards towards a frosty Arctic conclusion the pair gathered friends Kelly Slater, Chris Del Moro, Alex Grey, and Dan Malloy for this cinematic and cosmic experience of a lifetime. WORLD PREMIERE
Through the Whisky Barrel by Allyn Harper: "Through The Whisky Barrel" is the much anticipated debut film by Allyn Harper. An innovate film providing an insight into the history and the culture that surrounds surfing in Scotland. The film showcases an array of epic waves which are unleashed onto the undulating Scottish coastline, whilst telling the stories of Scottish surfing\'s pioneers and the waves, which form their coldwater playground. The film aims bring the surfing community in Scotland together and raise funds for the Scottish Surf Federation. Soundtrack by the incredible 65 Days of Static. EAST COAST PREMIERE
2012 New York Surf Film Festivals Official Short Films Program
30 Days Without Surfing by Driftwood Collective: 30 Days Without Surfing is DwC's attempt on creating a short film about crafting, love and the Absolute. It portraits all the time spent in between swells when you start questioning yourself, and how creativity is ever linked with making the most of what you got! NYC PREMIERE
Away by Elisa Bates: Three different women are united by surfing. AWAY is a short documentary film that looks at the subculture of NYC surfing through the lens of these women, divulging the highs and lows of riding waves at Rockaway Beach, Queens. WORLD PREMIERE
Bernie and Ges by Alex DePhillipo and Andrew Gesler : The creators of Dark Fall bring you the twisted tale of Bernie and Ges. An animated adventure that tells the story of surfer Andrew Gesler and his roommate Bernie [man's best friend] who find themselves caught in the middle of a Guido Zombie Invasion on the Jersey Shore. Created by Alex DePhillipo and Andrew Gesler, Animated by Drew Toonz.  Starring Andrew Gesler, Mike Anthony, Jeanine Petro, Garrett Stites, Mike Spahr and more… NYC PREMIERE
Fathoms Left to Fall by Gabe Davies and Matt Strathern: A short film of one epic day of huge surf during March 2012 at Mullaghmore Head, County Sligo. The yin and yang of a trip. The highs and the lows. The epic rides and the epic falls. Surfing isn't a easy game to get right, once in a lifetime 50 ft faces followed by a endless search for shelter. Tides reveal dry reefs, squalls break promises. Rain dampens enthusiasm, talk of hidden secrets abound but the wind in it's infinite wisdom keeps them just that, secret. There's no urgency yesterday's euthoria still burns. Another trip another day. No fathoms left to fall.
Free Aloha by Alex DePhillipo: A short film shot on the North Shore of Oahu featuring Kalani Chapman, Flynn Novak, TJ Barron, Bruce Irons, John John  Florence, Keali'i Mamala and more.
Follow the Sun by Ryan Moss: Reef and Xavier Rudd collaborate to bring you a tribute to International Surfing Day titled "Follow the Sun", where the surf community stops and pays respect to our Mother Ocean through surf culture participation and ocean preservation. Reef invites you to join in the fun and start surfing and loving our oceans today.
Itxasoa by Patrick Trefz: Jim Denevan is certainly one of the most significant "land" artists in the World. His gigantic drawings, figures, have reached a cult status within the art world, resulting in projects with a huge simbology, impact and wide media coverage around the world. Mundaka was the first spot he picked in Europe to perform one of his works and we, at Surfilmfestibal were at the origin of this visit. Urdaibai river-mouth is a protected space, UNESCO Biosphere Reserve, the best wave in Europe breaks on its river-mouth, thus it's a mandatory pilgrimage destiny for thousands of surfers from all over the world. A unique place that needs to be protected; a perfect sand bank to host Denevan's work.
Kook Paradise Kook Paradise is one part social commentary, one part comedy and one heaping spoonful of reality. Kook Paradise is filmed on location at Ditch Plains Beach highlighting the surf culture in and out of the water. It is shot in the style of the surfing films from the 1960′s , bringing levity and humor to that which surrounds surfing's current popularity in NY in particular. Kook Paradise is a film by Danny Dimauro and Tin Ojeda  PARADISE!!!  NYC PREMIERE
Margaux by Michael Weybret: One word says it all: Margaux. All of her style, grace, and talent is on display during her stay in Southern California. Watch as Margaux Arramon-Tucoo glides at Pipes and shapes a new log at Shaper Studios. EAST COAST US PREMIERE
Montauk Documentary by John Madere: Montauk's beauty and quirkiness are revealed through touching and often hilarious interviews with 20 of its most fascinating inhabitants. NYC PREMIERE
Simon Anderson by AEG Powertools: A lot's been said about Simon Anderson since he created the Thruster, but it hasn't been said quite like this. Narrated by Simon himself, this film provides an intimate and compelling insight into the life, career and craftsmanship of a genuine surfing icon. NYC PREMIERE
Stacked by Patrick Cummings and E.J. McLeavey-Fisher: When the Quiksilver Pro surf competition makes an unprecedented stop in the small town of Long Beach, New York, 20 year-old local surfer Balaram Stack must represent his hometown by competing against Kelly Slater  and the world's best surfers in the biggest contest in the history of professional surfing. NYC PREMIERE
Upcycling by Henrique "Ogro" Perrone: UPcycling is a short film about transforming an old longboard into a brand new board. By showing the beauty of this process, it also suggests new views on how enriching using renewed equipment could be. Besides, it is a film on how people and places get connected through the joy of an UPcycled resulting board. And, of course, it is about transformed habits and routines, new views on old things, all through the activity of craftsmen involved in the amazing process shaping a surfboard is. US PREMIERE
Water Warriors by Anna Jerstrom:  Water Warriors is about the strength and courage of female surfers.   This film beautifully depicts how the traits of a warrior parallel those necessary for surfing.  These girls take on waves like they are going into battle and they charge the break without fear in hunt for the next wave of their lives. WORLD PREMIERE
WindanSea by Derek Dunfee is a closer look at the beach culture that surrounds the Windansea area in La Jolla, CA. Most of the video was filmed during the time I was writing the article 'Never Never Land, Welcome to Windansea, Get Ready to Self-Destruct' in Surfing Magazine, May 2012.
Wright Side of Wrong by Peter Hamblin is a journey with Warwick Wright behind the scenes and in your face, where we meet his friends from across the globe and document his life on the road, Sometimes Wright often Wrong This is THE WRIGHT SIDE OF WRONG. WORLD PREMIERE
You Look Swell by Morgan Gore: After Eleven Presents, You Look Swell … a surf film, featuring; Randy Townsend, Conor Willem, Pat Millin, Danny Mears, Ben Raimo, Peter George, Chris Del Moro, Keoni Jones, Luke Rife, Zach Plopper and more. Filmed in New Jersey, New York, California, Panama, Hawaii, Costa Rica, and Puerto Rico. NYC PREMIERE
A special complimentary screening of the 'Enyclopedia of Surfing' digital archive of historical and current film clips will be ongoing in the bar and lobby throughout the festival courtesy of Matt Warshaw.
To view the full program, film synopsis and trailers, please visit www.newyorksurffilmfestival..com. Tickets for the 2012 NYSFF will go on sale September 5th 2012 at 5PM at NiteHawk Cinemas
PRESENTING SPONSOR
The New York Surf Film Festival is proud to welcome Barbados as our 2012 Presenting sponsor.
The island of Barbados offers the most authentic Caribbean experience with its exceptionally rich culture and history rooted in remarkable landscapes. Rated as one of the world's sexiest beaches in 2008 by Concierge.com; Barbados' Crane Beach in St. Philip stands as a premier destination for travelers. Barbados is also the first Zagat-rated Caribbean island with numerous internationally renowned chefs who masterfully put signature spins on local delicacies and traditions. Barbados is an ideal stage for world-class events and in collaboration with American Express Publishing Corporation, Barbados has hosted its first annual Barbados Food & Wine and Rum Festival in November 2010. The country has also hosted numerous athletic championships, including the 2006 PGA World Golf Championships-Barbados World Cup, the ICC Cricket World Cup Finals in 2007, the Sentebale Charity Polo match with Prince Harry of Wales in 2010, and the ICC Twenty20 Cricket Finals for 2010. Accommodations range from picturesque plantation houses and villas, to quaint bed and breakfasts and award-winning, five-star resorts. Grantley Adams International Airport offers even more non-stop and direct service from a growing number of U.S. cities via Jet Blue and American Airlines, making Barbados the true gateway to the Eastern Caribbean. Barbados was voted eighth in the World by Trip Advisor's '2008 Travelers Choice Destination Awards' in its Top 100 Destinations category. For more information on travel to Barbados, visit www.visitbarbados.org, follow on Facebook at http://www.facebook.com/VisitBarbados, via Twitter @Barbados or contact the Barbados Tourism Authority at 1.800.221.9831.
NYSFF welcomes back our official media partner Surfing Magazine.
NYSFF welcomes Xsories as our official extreme sports accessories sponsor.
NYSFF welcomes  Glassy Clothing as our official T-Shirt sponsor.
NYSFF thanks the general support of our Friends of the Festival NYSurfingBuddies, Rockaway Beach Surf Club, Encylopedia of Surfing, Saturdays Surf NYC, 5Rhythms, Bandar,  Hive Surf, LIberty Bottleworks, unsOund Surf, Wax Buddy, Swell.com, SurfersVillage.
NYSFF is proud to support Stoked Mentoring & Waves of Health.
About New York Surf Film Festival:
Founded in 2007, the New York Surf Film Festival is the premier showcase for international independent surf films. The mission of the New York Surf Film Festival is to provide filmmakers who are exploring the diversity of surfing an opportunity to present their work to a larger audience. As surf culture becomes more popular, the notion of what it means to be a surfer expands. The New York Surf Film Festival's aim is to build upon and shape the idea of what a surf movie is, while fostering the growth of this global community in NYC. NYSFF is a proud member of the Global Surf Film Festival Collective